DigPhilly
December 13, 2007
Weekend Dig! Dec. 14-16
Posted: Dec 13, 2007 1:37 PM
Just because the weather outside is frightful, there's no need to deny yourself something delightful this weekend.
As is usually the case – thanks to someone's idea of a cruel joke – the weekend that promises to be absolutely miserable from a meteorological perspective is the same one that's jam-packed with great concerts and groovealicious dance parties. Armed with the realization that even a light dusting of white stuff can create major distractions, here's a brief rundown of can't miss weekend picks. Remember – eyes on the prize, people.
Friday
Sharon Jones and the Dap-Kings
Dec. 14, 9 p.m. $15. With Budos Band.
Fillmore at the TLA, 334 South St. 215.922.1011.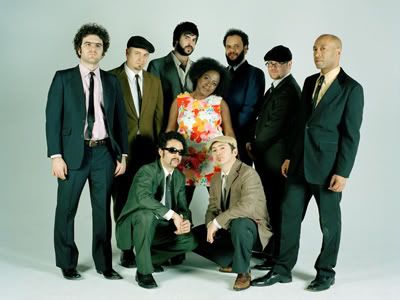 Even though Friday stands tall as one of the biggest party nights of the year (Boys Noize at Making Time, Diplo and Blaqstarr at Fluid), this is STILL the easiest pick of the weekend. With all due respect to German electro-tech and the Dirty, Dirty South, nothing quite compares to what Sharon Jones and the Dap-Kings bring to the table.
Perhaps the ultimate purveyors of old-school funk and soul, the Dap-Kings act as the house band for New York's Daptone Records. Boasting an eight-piece lineup of unparalleled masters of vintage soul instrumentalists, they may very well be the hardest-working band in music today. In addition to their tenure as studio players and touring members of several acts in Daptone's stable, the Dap-Kings also lent their talents to DJ Mark Ronson's superb 2007 release, "Version" (Columbia), as well as logging studio and stage time with everybody's favorite queen of rehab, Amy Winehouse.
The Dap-Kings are all about preserving the sanctity of '60s soul. From sharp suits to choreographed moves performed in lock-step fashion amidst blaring brass and rumbling basslines, the Dap-Kings are consummate professionals on stage. Friday's show is billed as a "Super Soul Revue" and it's difficult to believe that Jones and the Dap-Kings will deliver anything less. Expect old-school style introductions of band members complete with grand entrances and solo fills.
And don't go lunching on the openers, either. The 11-piece explosion of funky Afro-beat goodness that is the Budos Band is truly something to hear and behold. To paraphrase the words of another gang who knew a little something about funk themselves, ain't no party like a Daptone party 'cause a Daptone party don't stop.
Saturday
For the Kids
Dec. 15, 10 p.m. $5 w/ unwrapped toy / $10 without.
Khyber. 56 S. Second St. 215.238.5888.
Local peddlers of the underground steez, 215HipHop.com, catch the holiday spirit and use their strange and wonderful powers of production and persuasion to bring the peeps together for a good cause. For the Kids, a toy and cash fundraiser, mixes the hot beats and sharp lyrical skills of several of Philly's top hip-hoppers with that warm and fuzzy feeling that comes with making the holiday season a little brighter for some less-fortunate kids out there.
All it takes is an unwrapped toy and a paper Lincoln to gain admittance to get down with one of the best lineups of local talent in recent memory. Outerspace have been flippin' lids in the Illadelph for a decade now and Reef the Lost Cauze is about the best MC this city has to offer. How he isn't a nationally recognized rapper by now remains a huge mystery. Toss in four DJs working as many decks and you've got one hell of a party on your hands.
If you can't get out to your local Toys 'R Us before the gig, don't sweat it. Just cough up a ten spot at the door and the Khyber is your oyster. It's all good either way, as all proceeds from the show go toward purchasing more toys for the cause. You know, for the kids.
Sunday
In Woody's Words
Dec. 16, 11 a.m. $150-$200. With Jonatha Brook, Tom Paxton, Cathy Fink & Marcy Marxer, John Gorka, Chris Smither, Sara Lee Guthrie and Jonny Irion. World Café Live, 3025 Walnut St. 215.222.1400.
All tickets must be purchased through Philadelphia Folksong Society - call 215-247-1300.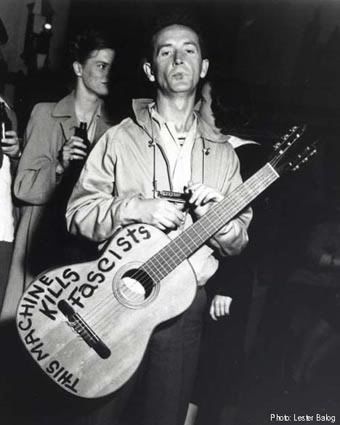 After Friday's soul shakedown party and Saturday's big-hearted blowout, it might be time to turn things down a notch. As always, World Café Live steps up to the plate and delivers a made-to-order gig.
In Woody's Words features the debut performances of "new" Woody Guthrie songs by several prominent folk musicians. The selections are comprised of lyrics from the Guthrie archives that Woody had yet to set to music before he died. Sunday's performers, including John Gorka, Jonatha Brooke, Tom Paxton and Woody's granddaughter, Sarah Lee Guthrie, married the found lyrics with original music, a la Wilco and Billy Bragg's excellent Mermaid Avenue series. Woody's daughter, Nora Guthrie , will be on hand as well to present a special movie about Woody and his contributions to America's strong folk tradition. The event is tagged as a benefit celebration of the 50th anniversary of the Philadelphia Folksong Society, thus offering yet another chance to boost your karma through musical pursuits.
All in all, the cold doesn't stand much of a chance. Between the Dap-Kings hot licks and the glow generated by so many charitable efforts, this weekend may turn out to be pretty damn warm and bright after all.